Kashmir Overseas Employment Services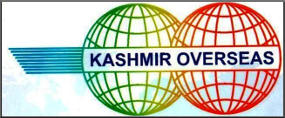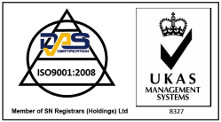 Kashmir Overseas Employment Services (K.O.E.S.)(O.E.P.L. No. 0725/RWP) established since 1976 is exporting skilled, semi-skilled and professional manpower to its principal market in Middle East mainly Saudi Arabia, U.A.E., Kuwait, Qatar and Muscat. Since its creation K.O.E.S. has recruited more than 40,000 workers for prestigious principals and earned a lot of foreign exchange for Pakistan. Presently we are based in Pakistan and Saudi Arabia.
We are extremely proud to announce that we have achieved ISO 9001:2008 certification from SN Registrars (Holdings) Limited for our Quality Management System (QMS).
It's a great achievement that shows we are truly invested in understanding our clients needs and working with them to deliver high quality solutions, whilst continuously reviewing and improving the way we work.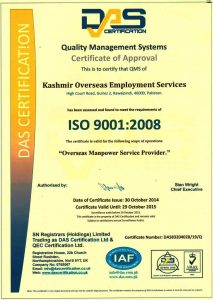 Here is a brief overview of our processes:
Pakistan is the land of hard working people and our recruitment agency M/s Kashmir Overseas Employment Services (O.E.P.L. No. 0725/RWP, by Ministry of Manpower, Government of Pakistan) is proud to present itself as one of the leading suppliers of Pakistani Manpower.
As a matter of fact we have been active in this business since 1976. Our principal market is in the Middle East, especially Saudi Arabia, U.A.E. Kuwait, Qatar and Muscat. In these countries we are the market leaders, providing reliable, fair and professional transactions, safeguarding interest of both the employer and the employee.
Karachi and Rawalpindi are our recruitment centres, covering an area of about 1,000 miles in Pakistan. We are equipped with an organized and integrated network of recruitment with the latest communication and information technology.
In the presence of our country-wide coverage, we have an edge to locate, screen and recruit the most appropriate people as per the requirements and set standards of our valued clients.
Satisfaction of the employers is our prime consideration because our success lies there.
The number of Pakistani labour supplied to the Middle East countries during the last many years are more than 25,000. Our honest moral principals and high ethical values are the true cause of the satisfaction of our honoured clients.
Arabic, English, Urdu, Hindco and Sindhi are the languages, in which the proprietor and Managing Director of this company, Mr. Mohammad Yaqoob Khan can communicate with the people of different backgrounds. His command over these languages and wide experience in the recruitment business give him a distinction. Because of his entrepreneurial spirit of growth. He is not only broadening the horizons of Kashmir Overseas but is also the Director of all the companies comprising "Kashmir Group of Companies".
The contract is signed with the Principal and as soon as we receive demand order and Power of Attorney the processing starts.
In our computer the data of the enlisted applicants is sorted for the required specific job trade, if the requirement is not met with the set standards of the Principal, we advertise the demand in the major newspapers of Pakistan. Candidates are called in for the interviews and oral trade evaluation. The shortlisted candidates are called for trade test which is taken at the certified and top grade institutions of Pakistan.
Medical tests are conducted strictly and only at the hospitals approved and certified by the relevant embassy. Meanwhile the list of the selected candidates is given to the Principal for their analysis and approval.
Endorsement of visa is taken up after medical test results and after visa endorsement the flight information is given to the Principal and the documents are submitted for protector of emigrants.
Later on flight is reconfirmed to the Principal after protector of emigrant's clearance than the candidates are called for pre-despatch orientation and briefing by the Managing Director.
Yet another time the line of action and duty is briefed before the recruited candidates are despatched as per the flight schedule. This whole procedure of processing i.e. from demand to despatch take places between four to five weeks.
| | | |
| --- | --- | --- |
| 1 | Period of Contract: | Minimum one year. |
| | | |
| 2 | Probation Period: | 90 (Ninty) days, or according to Labour Laws of host country |
| | | |
| 3 | Daily working hours : | 8 hours per day, Maximum 12 hours per day with 4 hours paid overtime |
| | | |
| 4 | Weekly working Days: | 6 (Six) days per week. |
| | | |
| 5 | Weekly rest day: | 1 (One) day per week paid holiday |
| | | |
| 6 | Rate of Overtime: | As per Labour Laws of host country or minimum 1.5% of his basic salary per hour. |
| | | |
| 7 | Accommodation: | Free of cost bachelor/family types furnished accommodation (not tents) must be provided by employer with electricity,water & gas. |
| | | |
| 8 | Messing facilities: | Free food or 25% of basic pay to be paid extra in lieu of free food for unskilled, semi-skilled and skilled workers. This provision of free food will not be applicable to UAE and Bahrain. |
| | | |
| 9 | Medical facilities: | Free to be provided by employer. |
| | | |
| 10 | Transportation from Residence to work site: | Free transport to be provided by employer. |
| | | |
| 11 | Passage: | Economy class by air from place of hire to place of employment and back on expiry of contract to be provided by the employer. |
| | | |
| 12 | Vacation / Leave per year: | As per Labour Laws of host country. |
| | | |
| 13 | Illness leave per year: | As per Labour Laws of host country. |
| | | |
| 14 | Social Security/ Insurance: | Employee to be covered at the cost of the employer, according to Labour Laws. |
| | | |
| 15 | Dead Bodies: | Dispatch of dead bodies or Repatriation due to serious iInjury will be made to Pakistan at employer's expenses. |
HIGHLY QUALIFIED: 1. Assistant Junior Engineer/Technicians with Diplomas only
2. Architects/Planners
3. Banking Specialists
4. Chartered/Cost Accounts/Specialist
5. Consultant/Specialist (Medical)
6. Computer Engineer (Hardware / Network)
7. Computer Programmer
8. Doctors
9. Dentist
10. Engineers Civil, Electrical, Mechanical
11. Marine, Geologists
12. Graphics Designer
13. Junior Executives
14. Mineral Specialists
15. Marketing Managers
16. Personal Managers
17. Sales Executives
18. Scientist: Ph.D's in various fields
19. Soil Specialists
20. Surveyors
21. Teachers/Professors
22. Web Page Designer
a) Ph.D's b) M.A., M.ED's & B.A./B.ED's c) M.A's
HIGHLY SKILLED: 1. Auxiliary Operators 2. Boiler Operators 3. Compressor Operators 4. Control Room Operators 5. Distillation Operators 6. Draftsman Architectural 7. Draftsman Civil 8. Draftsman Mechanical 9. Earthmoving Equipment 10 ECG/Ultra Sound Technician 11. Engine Mechanic Heavy Equipment 12 Excavator Operators 13. Grader Drivers/Operators 14. Generator Operators 15. Heavy Plant Operators, Electrical 16. Inspectors for Excavation machinists 17. Mobile Crane Operators 18. Operators of Bulldozer 19. Plant Operators 20. Shovel Operators 21. Trailer Drivers 22. Turbine Operators 23. X-Ray/Lab Technician
SKILLED 1. Accounts Clerk 2. Administration Assistant 3. Auto Denter 4. Auto Fitter 5. Auto Painter 6. Bench Grinder 7. Blacksmith 8. Building Overseer 9. Cable Jointer 10. Car Driver 11. Scaffolder 12. Carpenter 13. Carpenter Foreman 14. Carpenter Shutterers 15. Civil Works Supervisor 16. Compounder 17. Drafts Man 18. Cushion Maker 19. Cutter 20. Diesel Mechanic 21. Ductman 22. Electrical Foreman 23. Elementary RCC des 24. Electrician, Industrial Electrician 25. Estimator 26. Equipment Mechanic 27. Excavator Foreman 28. Quantity Surveyor 29. Cutter 30. General Cashier 31. Heavy Duty Driver 32. Elementry for cleaning /Maintenance 33. Instrument Fitter 34. Iron worker 35. Laboratory Technician 36. Leader Operator 37. LineMan(Electrical) 38. Machinist (Tool) 39. Male/Female Nurse 40. Masons 41. Microwave Technician 42. Mill Mechanic 43. Mixture Concrete 44. Motor Launch Driver 45. Moulder 46. Packing Superviser 47. Painter(Building) 48. Pattern Maker 49. Pay Roll Clerk 50. Petrol Mechanic 51. Pipe Fabricator 52. Pipe Fitter 53. Plumber 54. Plumbing Forman 55. Printer 56. Radio Mechanic 57. Receptionist 58. Refrigration & AC Mechanic 59. Safety Inspector 60. Salesman 61. Sanitry Fitter 62. Site Clerk 63. Sheet Matel worker 64. Soil Testing Laboratory Assistant 65. Steel Binder 66. Steel Fixer 67. Stenographer 68. Store Keeper 69. Structure Steel Erractor 70. Tailor 71. Telephone Opertator 72. Telephone Technician 73. TeleGraph & TelePrinter Technician 74. Telephone & Telex Operator 75. Tiller 76. Time Keeper 77. Turnur 78. Welder 79. Well Driller 80. Wireless Technician 81. Wood Machinist 82. WorkShop Forman
UN-Skilled: 1. Rigger 2. Spray Painter 3. Agriculture Labourer 4. Cabel Man Labour 5. Coolie 6. Cleaner Labour 7. Guardsman 8. Industrial Labour 9. Jack-Hammer Labour 10. Janitor 11. Peon 12. Seaman 13. Shop Labourer 14. Sweeper 15. Watchman 16. Sand Blaster
Semi-Skilled 1. Assistant Cook/Kitchen Helper 2. Bartender (House Keeping) 3. Block Maker 4. Boat Deckhand 5. Carpainter's Helper 6. Concrete Worker 7. Eractor Helper 8. Fisherman 9. Laundryman 10. Pump Operator 11. Security Guard 12. Waiter 13. Cook 14. Bakerman 15. Buttler 16. Food Service Supervisor 17. Camp Boss
1 ABV Rock Saudi Arabia
2. AI-Habtoor Engineering Dubai, U.A.E.
3. Al Dseco General Contracting LLC Dubai, U.A.E
4. Condor Building Contracting Co. Dubai, U.A.E.
5. M/S M-10 Builders Kulalumpur, Malaysia
6. Saudi ABV Company, Jeddah, Saudi Arabia
7. YANBU Steel Company (Formaly P.D.M) Yanbu, Saudi Arabia
8. Siemens Riyadh, Saudi Arabia
9. Metal Services Company (Formaly Al-Joaib) Dammam, Saudi Arabia
10. Saudi Erricsson Riyadh, Saudi Arabia
11. L.M. Erricsson Riyadh, Saudi Arabia
12. Hyundai Engineering & Construction Co. ltd. Seoul,Korea
13. Al-Owaidah Contracting Co. Riyadh, Saudi Arabia
14. International Society Est. (Hospital) Riyadh, Saudi Arabia
15.Arabian Construction Co. Ltd. Abu Dhabi, U.A.E
16. SIBC-BASIL Joint Venture Navy Riyadh, Saudi Arabia
17. Bin Jarallah Contruction Co. Ltd. Jeddah, Saudi Arabia
18.Kanooz industrial Dammam, Saudi Arabia
19. Saudi Steel Products Factory Dammam, Saudi Arabia
20. Al Jazirah Engineering Industries (Al Shamarny Groups) Dammam, Saudi Arabia
21. Demauro-Shuwayer Const. Co. Dammam, Saudi Arabia
22. Babocock Al-khobar, Saudi Arabia
23. Al-Jubail petrochemical Co. (Kemya) Jubail, Saudi Arabia Riyadh
24. Abdullah Said Bugshan & Bros. Riyadh, Saudi Arabia
25. Rafha Electricity Co. Suburbs Rafha, Saudi Arabia
26. Baldia (Municipality) Rafha Rafha, Saudi Arabia
27. AI-Dahlawi Co. Jeddah, Saudi Arabia
28. Ahmed Saleh Nasir Hamad Al- Dossary AI-Khafji Dammam, Saudi Arabia
29. Shawayer & Associate Dammam, Saudi Arabia
30. Maritime Transport Overseas Dammam, Saudi Arabia
31.Stevin Bahareth Engineering Co. Dammam, Saudi Arabia
32. Ahmed Sakeh Nasir Hamad Al Dammam, Saudi Arabia
33. Sultan Al-qahttani Transport Co. Dammam, Saudi Arabia
34. Sanam Co. Dammam, Saudi Arabia
35. Sascom Dammam, Saudi Arabia
36. Ahmed Abdul Waheed & Co. Dammam, Saudi Arabia
37. Al- Hajri Overseas Dammam, Saudi Arabia
38. Nahda Contracting & Engineering Est. Dammam, Saudi Arabia
39. Arabia Catering & Services Co. AI-Khobar, Saudi Arabia
40. Al-jazeera Printing Press AI-Khobar, Saudi Arabia
41. Prince Ahmed M. Sudairy AI-Khobar, Saudi Arabia
42. Industrial Equipment Marketing Co. AI-Khobar, Saudi Arabia
43. Saleh Commercial Co. AI-Khobar, Saudi Arabia
44. Modern Wood Works AI-Khobar, Saudi Arabia
45. Saudi International Business Centre Riyadh, Saudi Arabia
46. Frank E Basil Inc. Of Delaware Riyadh, Saudi Arabia
47. Kara Est. Riyadh, Saudi Arabia
48. Abrahim D. Al-gawan Arar, Saudi Arabia
49. Ali Mohammad Ibrahim Al-regdi Abha, Saudi Arabia
50. Al-gindwan Trading Est. Jeddah, Saudi Arabia
51. Mohmmmad Saeed Mohmmad Saleem Trading Jeddah, Saudi Arabia
52. National Printing Ruwi/ Muscat/ Sultanate of Oman
53. International Furnishing Co. Ruwi/ Muscat/ Sultanate of Oman
54. Universal Enterprises Ruwi/ Muscat/ Sultanate of Oman
55. AI-Felaji Trading Co. Ruwi/ Muscat/ Sultanate of Oman
56. Hassan Suleman Yousuf Ruwi/ Muscat/ Sultanate of Oman
57. Dashti & Abal Transport Co. Safat, Kuwait
58. Khabary Agriculture Co. Safat, Kuwait
59. Ahmed Al-Shaban Trading & Contracting Safat, Kuwait
60. Rapco Road & General Contracting Co Abu Dhabi, U.A.E.
61. United Services Enterprises Abu Dhabi, U.A.E.
62.Das Intenrational Group Abu Dhabi, U.A.E.
63. Admak General Contracting Co. Abu Dhabi, U.A.E.
64. Mohammmad Rasheed Eid AlMutairi Riyadh, Saudi Arabia
65. Saudi Steel products FactoryDammam, Saudi Arabia
66. Saudi Arabia Glass Co. Jeddah, Saudi Arabia
67. Sahara Building Cont. Jeddah, Saudi Arabia
68. National Transport and Contracting Co Abu Dhabi, U.A.E.
69. Safat – Tamimi Global Co. Kuwait
70. German Tech Fiberglass Ind. Sharjah U.A.E
Save
Save
Save
Save
Save